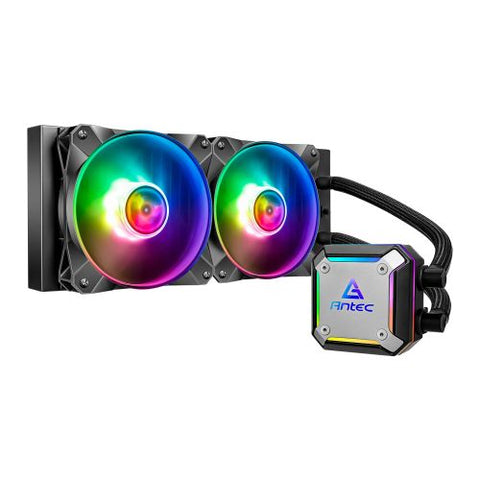 Antec Neptune 240 Liquid CPU Cooler, 240mm Radiator, 12cm PWM ARGB LED Fan, Ultra-Thin ARGB CPU Block
---
---
Advanced All-in-One ARGB Liquid CPU Cooler
The new generation of Antec all-in-one liquid CPU cooler, Neptune 240 ARGB, brings your build to next level. The integration of the water pump and radiator prevents the CPU from being damaged by vibration. The ultra-thin pump head reduces the volume when installing it on the CPU. Besides the aesthetics, the efficiency of thermal control is also improved
Protection for your Most Sensitive Components
The Super-thin CPU block not only avoids incompatibility with certain motherboard heat sinks, but it also protects your motherboard from deforming under the weight of more conventional heavier CPU coolers.
16.8 Million ARGB Light Effects
Give yourself the ultimate lightshow, the Neptune 240 AIO cooler is compatible with ARGB motherboards and their own dedicated softwares allowing you to create and have fun with a stagger 16.8 million different colours and effects by syncing your lighting across compatible components.
All The Accessories You Need
Fan Controller Included
The Neptune 240 AIO comes packaged with a plethora of different mounting brackets, giving it an extensive list of CPU sockets the Neptune 240 is compatible with, the package also includes all the necessary mounting screws and cables to connect your ARGB. Finally the Neptune 240 comes packaged with a handy fan hub that will allow you to easily sync your AIO to your motherboard by simply holding down the mode button for 5 seconds.