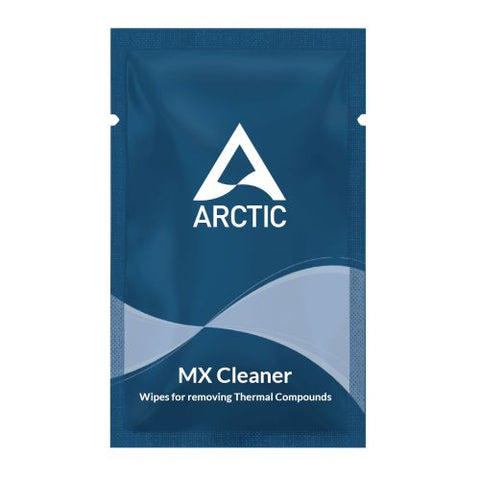 Arctic MX Cleaner Wipe for Removing Thermal Compounds, Limonene-Based
---
---
Wipes for removing Thermal Compounds (40 Pieces)
 
Perfect Cleaning
The MX Cleaner dissolves old and heavily dried thermal paste, such as your MX-2 or MX-4, so that it can be picked up and removed with the cloth without any problems.
Residue-Free Removal
In contrast to cleaning with handkerchiefs, household rolls or cloth wipes, the thermal paste does not smear on the processor, but is cleanly loosened from the surface and removed. Even stubborn traces and residues of heat conductive pads can be reliably removed.
Gentle Active Ingredients
ARCTIC's MX Cleaner is limonene-based and contains neither alcohols nor benzenes. This natural substance is primarily used for industrial cleaning as it is effective and at the same time gentle to metals and alloys.
Individually Packed
The 40 MX-Cleaner cleaning cloths included in the set are individually-packed and airtight. This keeps them moist for a long time, making them suitable for both hobby users and enthusiasts.