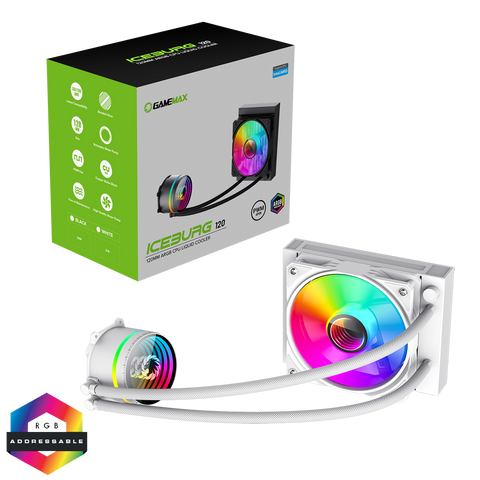 GameMax Iceburg 120mm AIO ARGB Water Cooler White
---
---
Description

GameMax Iceburg series AIO coolers are cutting edge known for their powerful performance, striking appearance & excellent reliability.

This stylish new series of AIO coolers from GameMax offers cooler options in 120mm, 240mm & 360mm sizes with 120mm AURA ARGB Infinity Centre fans.

The new refined design has pure core cooling technology and the greatly improved unobstructed flow channel result in a much-improved cooling performance and quieter operation.

This stylish new cooler includes one Infinity PWM Fan, controllable between 800-2000RPM and an infinity mirror on the pump head offers stunning colours and adds a real vibrancy to your Gaming PC.

Customise your system and sync the attractive RGB manually using a fan hub or with compatible Motherboard software such as ASUS AURA Sync, MSI Mystic Light Sync and Gigabyte Fusion.

Delivering superior cooling and stunning aesthetics the Iceburg improves the appearance and performance and brings out the best in your PC Gaming system.

Key Features


Powerful AIO

 

- The Iceburg 120 is a Single Fan Radiator made of aluminium and copper, equipped with one 120mm ARGB Infinity fan and the fans are controlled by PWM in a range between 800 and 2000 RPM. At its maximum rotation speed the fan generates a static pressure of 1.89 mmH2O and the air throughout is 62.82CFM. A high speed fan to provide 180w TDP overall heat dissipation, water tubes measure 300mm length to ensure the flexibility during assembling in PC case.
High-Quality Cooling Block

 

- The powerful water pump has a base plate made of copper and promises the best possible heat dissipation from the CPU and AIO EDPM tubes with nylon mesh sleeves are an effective way to reduce the evaporation rate of liquid to a minimum and avoid damage caused by friction or collision.
Core Cooling Technology

 

- A larger storage capacity and an increase in the heat dissipation area, 27mm heat dissipation radiator and 20mm thickness inside makes the coolant exchange heat more efficiently, making the overall performance of the cooler stronger.
Supports PWM Temperature Control

 

- One high-performance Infinity fan with seven-fin fan design supports 4pin PWM interface which can automatically adjust the speed with the temperature of the Motherboard.
Stunning Aesthetics

 

- Stand out thanks to mesmerising infinity mirror LED ring effect on the pump cap and the fan axis and you wont be able to take your eyes off it. The newly designed rotatable pump head can be rotated to adjust the angle of the GameMax logo depending on the angle you want to install to be able to achieve the full visual effect of the infinity pump.
Motherboard Software

 

- The ARGB lighting effects can be synced through the Motherboard which supports ARGB function, 5V 3-Pin Addressable RGB header, including ASUS AURA, MSI Mystic Light & Gigabyte Fusion. Customise the look with endless possibilities with 16.7 million static modes and 12 pre-set lighting effects.
Intel Compatibility

 

- Capable of handling intel high-end CPUs (Intel 13th Gen) Intel Socket LGA115X / Intel LGA17XX / Intel LGA1366 / Intel LGA2011.
AMD Compatibility

 

- Capable of handling AMD high-end CPUs (AM5) AMD Socket AM4 / AM3 / AM2 / FM1 / FM2 / FM3 / AM5.
Warranty

 

- The GameMax Iceburg ARGB Range comes with 2 Years Warranty.



Specifications


| | |
| --- | --- |
| Pipe Length: | 300mm Plus/Minus 10mm |
| CPU Block Material: | Plastic (PPS) |
| CPU Block Width (mm): | 82.50mm |
| CPU Block Height (mm): | 53.25mm |
| CPU Block Depth (mm): | 70.20mm |
| Pump Noise: | 2300RPM Plus/Minus 10 Percent |
| Fan Dimensions: | 120 x 120 x 25mm |
| Rated Speed (PWM): | 800-2000RPM |
| Airflow: | 62.82CFM |
| Fan Noise: | Less Than Or Equal To 32dBA |
| Bearing Type: | Hydraulic Bearing |
| Connector: | Fan - 4pin PWM / LED - 3pin AURA |
| Rated Voltage: | DC 12V |
| Working Voltage: | DC 6-13.2V |
| Start Voltage: | Greater Than Or Equal To 6V |
| Rated Current: | Fan - 0.25A / LED - 0.35A |
| Fan Pressure: | 1.89mm - H2O |
| LED Qty / Type: | 8 / ARGB |
| Fan Blade Qty: | 7 |
| M.T.B.F: | 40,000 Hours |
| Radiator Dimensions: | 157 x 120 x 27mm |
| Radiator Material: | Aluminium and Copper |
| Water Channel: | 12PCs |
| Noise: | Less Than Or Equal To 26.9dBA |
| Tube Material: | EPDM |
| Pump Dimensions: | 70 x 83 x 53mm |
| RPM: | 2300RPM Plus/Minus 10 Percent |
| Bearing Type: | Sleeve Bearing |
| Input Voltage: | DC 12V |
| Noise: | Less Than Or Equal To 26.9dBA |
| Flow Rate: | 1600ml/min |
| AMD Compatibility: | AM4, AM3, AM2, FM1, FM2, FM3, AM5 |
| Intel Compatibility: | LGA115X, 17XX, 1366, 2011 |



General Specifications



Manufacturer Part Number:
GMX-ICB-120ARGBW
EAN Number:
6931858791496
Has Mains Plug:
No
Colour:
White
What's In The Box:
120mm AIO Water Cooler
Accessory Pack
Manual
Unit (Product) Dimensions (mm):
157mm x 120mm x 27mm (W x H x D)
Packaging Dimensions (mm):
221mm x 201mm x 134mm (W x H x D)
Net Weight (KGs):
0.84 KGs
Gross Weight (KGs):
1.31 KGs