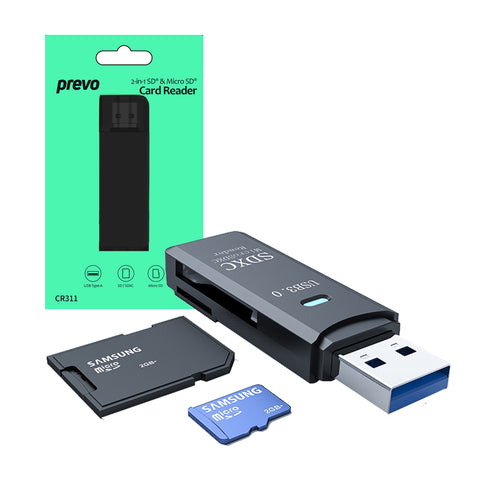 Prevo CR311 USB 3.0 Card Reader
---
---
The Prevo CR311 USB 3.0 Card Reader is a high-speed memory card adapter that supports various memory card types such as SD, Micro SD, TF, SDHC, SDXC, and MMC. It is designed to be compatible with both Windows and Mac operating systems.

With its USB 3.0 interface, the Prevo CR311 card reader can transfer data at speeds of up to 5Gbps, which is much faster than USB 2.0. This makes it an ideal solution for quickly transferring large files, such as high-resolution photos and videos, to and from your computer.

The Prevo CR311 card reader is also compatible with USB 2.0 and USB 1.1 ports, so you can use it with older computers as well. The reader is compact and lightweight, making it easy to carry with you wherever you go.

To use the Prevo CR311 card reader, simply plug it into a USB port on your computer and insert your memory card into the appropriate slot. The card reader will then appear as a removable drive in your file manager, allowing you to access and transfer your files as you would with any other drive.

Overall, the Prevo CR311 USB 3.0 Card Reader is a reliable and convenient way to transfer data from your memory cards to your computer quickly and easily.