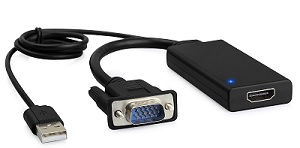 VGA to HDMI & USB Audio Converter Cable Adapter for Laptop PC HDTV
---
---
This converter adapter turns VGA video signal from your computer into HDMI for your display ,for example, an HDTV.
Audio signal via the USB cable could be processed by the item as well.
    With its compact design, it is convenient for you to carry the package anywhere needed, and easy installation it is. All you need is connect the item to your computer with cable required and the HD player as well and it works. No need for software installation or extra power supply.
    It offers solutions for digital entertainment centre, HDTV retail and show site, HDTV,STB, noise space and security concerns, data centre control, information distribution, conference room presentation, school and corporate training environments